Woodworking for beginners
Getting your feet wet and exploring your new found love of woodworking as a hobbyist can be very exciting but suffering the often experienced frustration of a lack of inspiration is not so much.
It is for that reason we have composed a short list of our favorite woodworking projects for beginners.
All of the projects on our list are projects I have built myself when I was settling into the wonderful world of woodworking.
1. Magic key hanger – Super easy
Expense:
Low
Skill:
Absolute beginner
Power tools required:
Basic
To start off our list we have the very simple, fun and quick to make, magnetic key hanger. It makes use of rare earth magnets embedded into a piece of wood to produce a floating effect when pushing your keys up against it.
This low labor project can be made in as little as 30mins and has a fair amount of wiggle room for the woodworker to explore their creativity. With the only constant being the magnets, the woodworker can use any type of lumber, shape and finish to produce a look to suit the style of the room the hanger will be used in.
2. Wall Clock – Very easy
Besides being another easy woodworking project, it also allows the woodworker to get creative.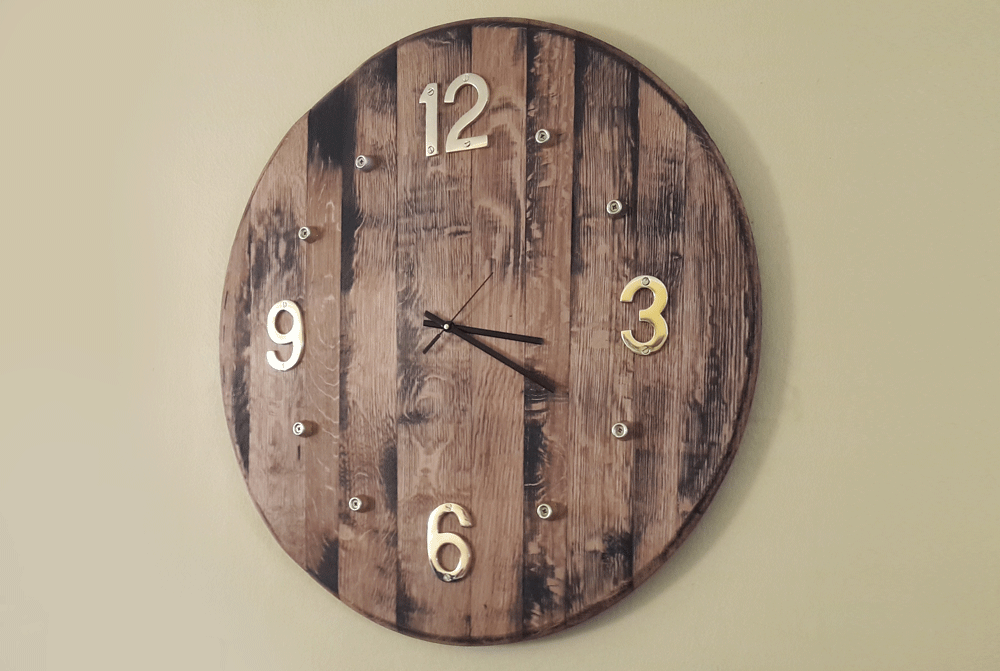 Expense: Low
Skill required: Absolute beginner
Power tools required: Low to medium depending on design
Making a wooden wall clock involves decorating a piece of lumber in any way the woodworker sees fit and thereafter simply cutting a hole to fit a clock mechanism into it.
The clock face in our tutorial was made from a wine barrel top and a couple of store-bought numbers. The mechanism was salvaged from an inexpensive clock and installed into the new, more appealing, clock face.
Click for more detailed tutorial on making a wine barrel clock
3. Hardwood chopping board – Easy
Chopping boards are one of my personal favorites when it comes to beginner projects. They are simple enough to build and can produce beautiful results when mixing and matching different species of wood. The only downside to this fun project is it often requires a table saw, a power tool that is not as common in the community of beginners.
Expense:
Low
Skill:
Beginner
Power tools required:
Basic + table saw
Making a chopping board involves laminating segments of the same or different species of hardwood together to form one solid board. This is done by gluing and clamping the selection of lumber and allowing it to cure properly.
After the glue has cured, the surfaces are simply sanded to a smooth finish and the board is treated.
Learn how to make a chopping board
4. DIY wooden guitar stand – Easy
Another favorite is the easy build hardwood guitar stand/hanger. It can easily be made using only the power tools on our beginner essentials list.
Expense: Low to medium depending on the type of wood
Skill: Beginner
Power tools required: Basic
This beautiful stand can be made by simply cutting its 3 components from a single plank using a jigsaw, sanding, and assembling.
You can get the pattern for the stand here.
5. Raised dog feeding station – Medium difficulty
A raised platform to hold a dog's bowls and a drawer for food storage.
Making a raised station for mans best friend is also a great project for a beginner. Though slightly more complicated than the other projects on our list it can also be built with the beginner essentials in terms of power tools.
Expense: Medium
Skill: Beginner
Power tools requirements: Basic
Making the raised dog feeder involves sizing of lumber and assembling with screws. After the box is built the woodworker cuts holes for the bowls and the doggy is ready to eat.