Easy build wooden guitar stand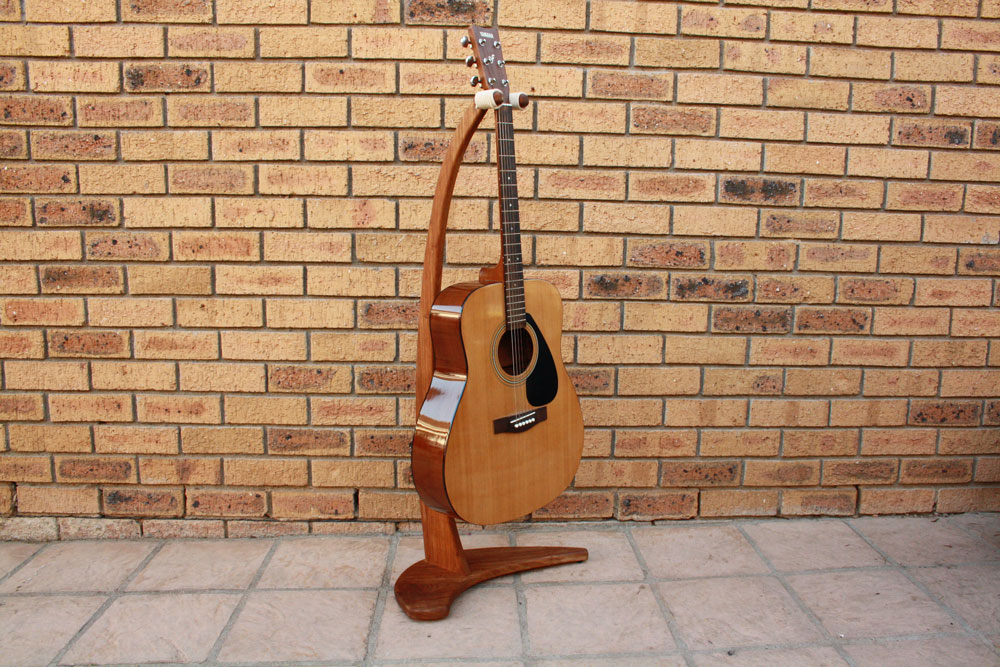 The Woodwork Junkie easy build DIY guitar stand is a great beginners project that only requires basic woodworking power tools.
Make one for yourself and display your guitar in style or build a stand and sell it to make a few bucks. Either way, this is a simple project that can yield beautiful results. Great for woodworking enthusiasts of all skill levels.
Tools and materials you'll need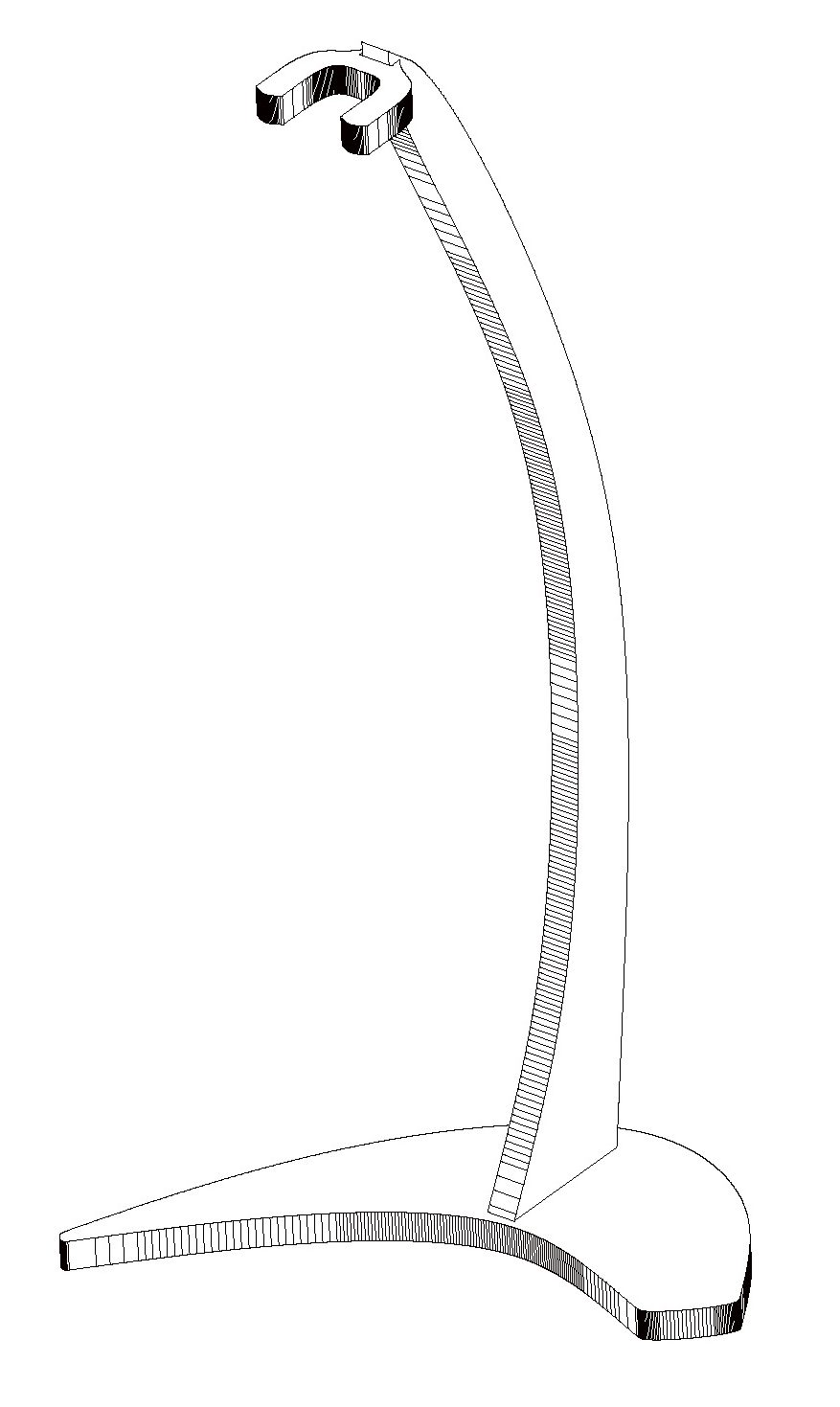 Jigsaw
Router
Power sander
Glue gun
&
A piece of hardwood with an appealing grain (at least 1-inch thick) – For the tutorial we used Kiaat.
Wood glue
Wood screws
Cotton rope
Sandpaper – Coarse and fine grit
Keep in mind this stand is designed to be built with a dense hardwood.
Step 1 – Plot out the cut marks
Use the diagrams provided below to plot out strategic points on your workpiece. These points will be used to guide your free hand when drawing the curved edges.
Neck plot – Component 1

Base plot – Component 2

Cradle plot – Componant 3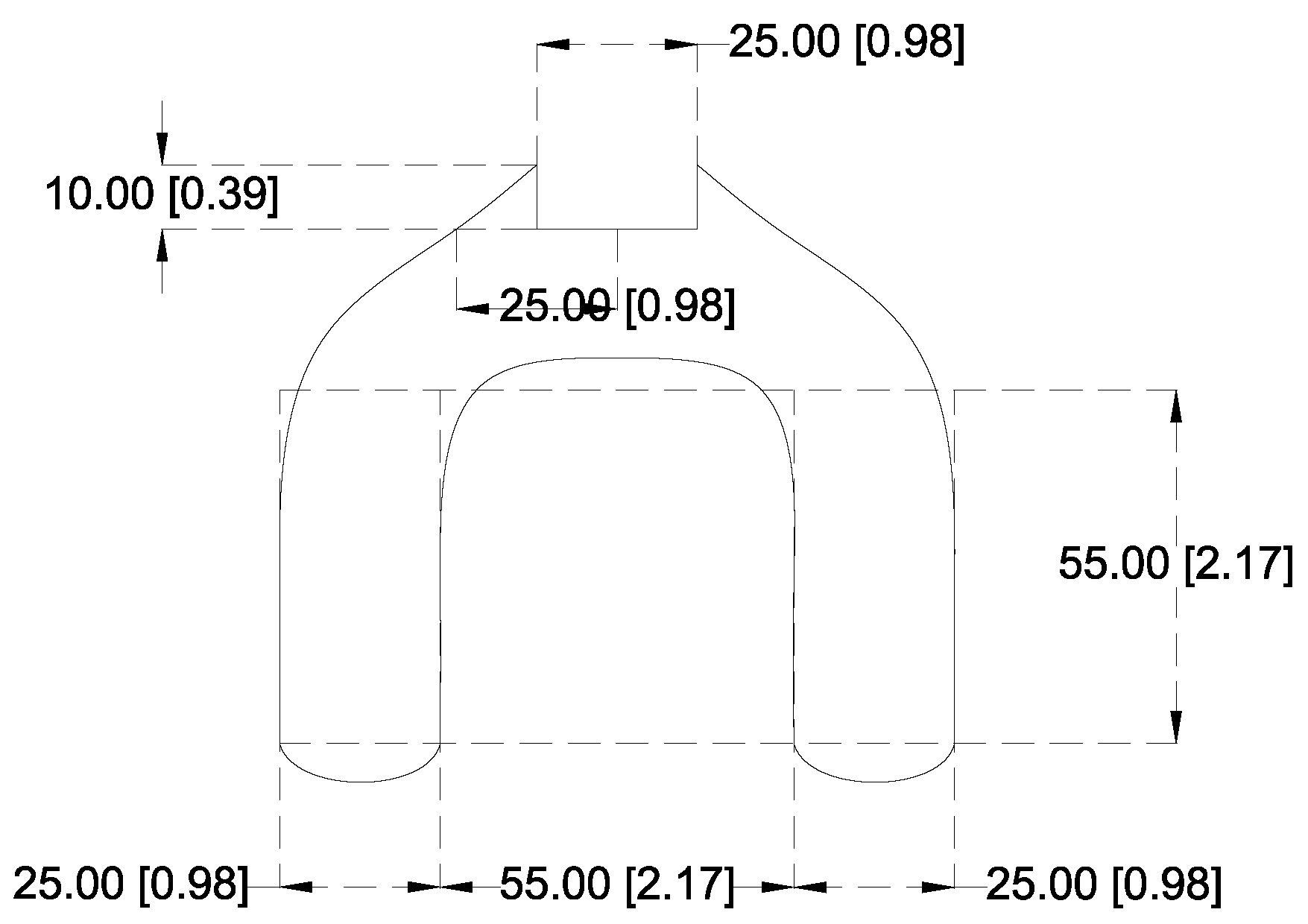 Step 2 – Cut out
Using a jigsaw, cut out the 3 components to the stand along the curved guidelines you have drawn on the stock.
The recess on the cradle where it fixes to the neck can be removed using a chisel.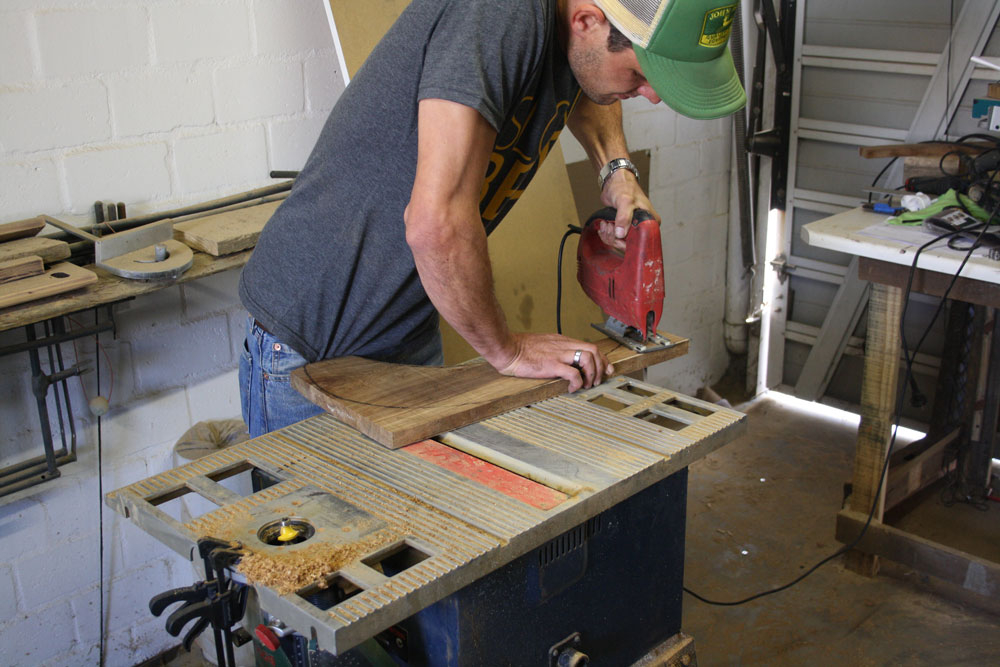 Step 3 – Smooth out the cut
With a power sander and a low grit sandpaper (60-100), smooth out the cut marks on the edges as to produce an even, gradual curve.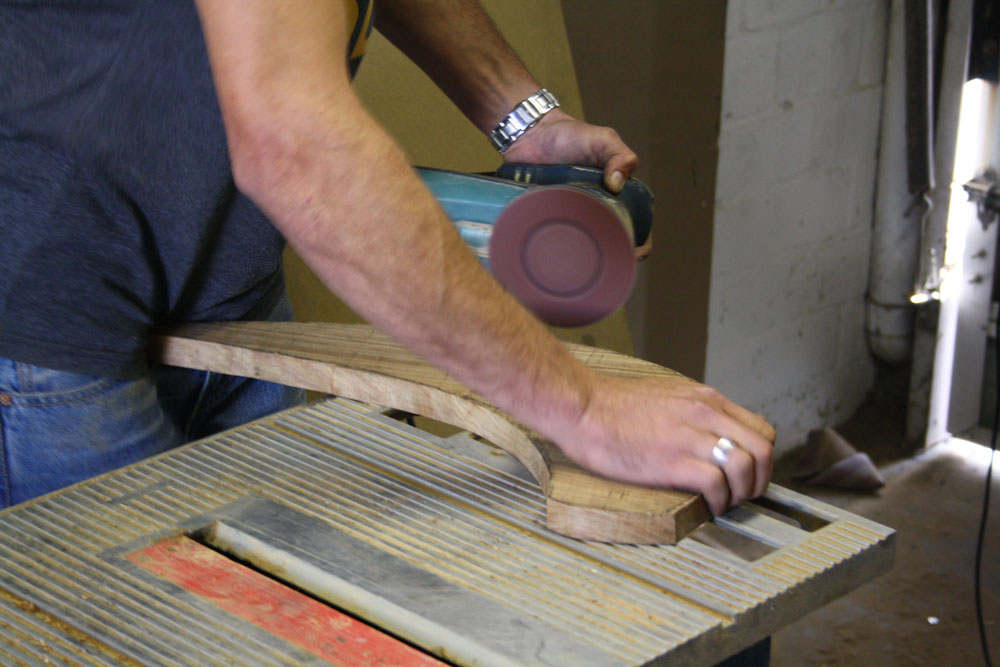 Step 4 – Router the edges
With a router and a roundover bit, cut a rounded edge around the top side of the base.
Cut a rounded edge around all the edges of the neck except the surfaces that will be fixed to the base and the cradle (refer to the diagram of the assembled stand).
Also, router all edges of cradle except area to be fixed to the neck.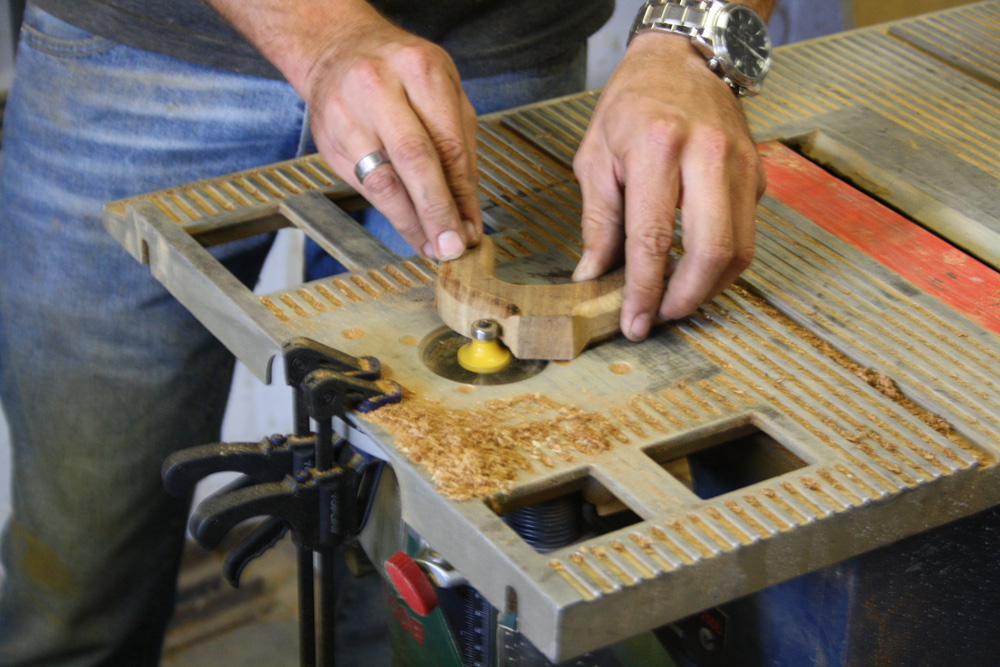 Step 5 – Assembly
After sanding down by hand, the stand will be ready for assembly. Assembly is done using chipboard screws as per the drawing below.
Fitting rubber studs to the bottom of the base is optional.
Note: When assembling the stand you need to fix the base to the neck in a way that the base extends beyond the point where the guitar will hang (the cradle). This is done as to prevent the stand from tipping forward when the guitar is placed on it. (Refer to the diagram to the right).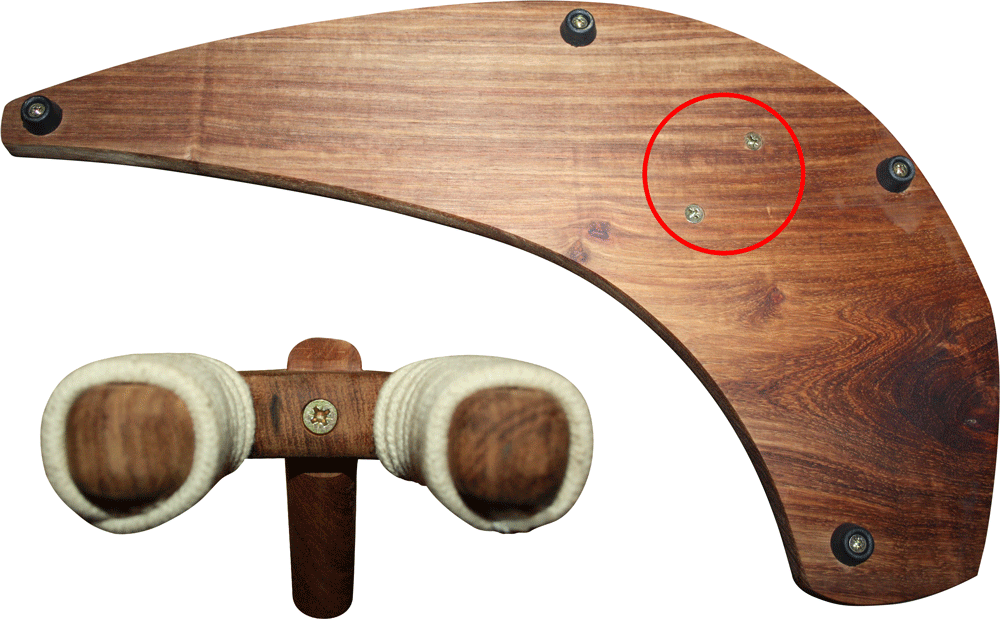 Step 6 – Finish
After assembly, the stand can be treated. I used a dark mineral oil for the stand in the tutorial to bring out the characteristics of the wood.
When the treatment has cured, add a buffer to the cradle to protect the guitar when it is placed on the stand.
I wrapped two pieces of cotton rope around the cradle and secured it with a glue gun.
Happy woodworking.

Woodworkjunkie.com, DIY like a pro.