Introducing The Bosch PS130-2A.
Great strides have been made in recent years in the development of cordless power tools. Mainly thanks to the massive strides made in the development of power tool batteries. With better Li-ion batteries being smaller and lighter as opposed to their Nicad and NiMH counterparts and paving the way for cordless drills like the Bosch PS130-2A Hammer Drill/Driver 12V MAX. 
At first glance.
This nifty little guy, or as I like to call it, "the baby Bosch", arrived packed neatly in its canvas zipper carry case waiting for the 9-year -old inside me to come out to inspect his newest toy. Inside, as I was expecting to find, was the Bosch PS130-2A Drill/Driver along with 2 12V MAX 1.3 Ah Li-ion batteries and the BC330 1 hour charger. Taking the drill out of its case I immediately noticed how light it was and started to ponder whether or not it will, in fact, be able to deliver the 265 in. lbs. of torque the retailer was bragging about. Besides being light the power tool was small and the additional features included a 3/8 inch keyless chuck, battery fuel gauge, LED light, variable speed trigger, and soft grip handle.
Specifications:
| | |
| --- | --- |
| No load RPM: | 0-380/1300 |
| Battery: | 1.3 Ah Li-ion |
| Torque (in. lbs.): | 265/124 |
| Chuck: | 3/8″ Keyless |
| Impact rate: | 0-19 500 |
| Gearbox speeds: | 2 |
| Clutch settings: | 20 |
| Head length: | 7.3″ |
| Height: | 7.1″ |
| Weight: | 2.3 lbs |
Big power, small package.
Bosch claims this little drill can pack a 265 in. lbs. punch which is only 95 less than it's 18V big brother, the Bosch HDB180-02, and can manage 3/8″ in steel and masonry and 1/2″ in wood. Naturally, I had to test the validity of this information for myself so the woodworkjunkie.com cordless drill test would have to follow.
Taking the baby Bosch for a spin.
Holding the drill I noted a sturdy well-balanced tool cased in Bosch's durashield while the comfort grip added a nice touch. I popped in the fully charged battery and loaded the first bit to do a test run and found the subtle ratchet-like clicks of the keyless chuck to indicate the bit is gripped quite pleasing. A few dry fires to prime (as one does) and off I went to test the little guy.
I used a 1 -1/2″ thick plank I had laying around and used a 3/4″ spade bit on speed one (only after failing on speed 2) and managed 6 holes comfortably. I was not disappointed that it couldn't handle 3/4″ on it' fast setting as the drill is only rated up to 1/2″ after all.
I then popped in a size O bit and proceeded to drill another 30 holes. Not sensing any power loss I loaded the 3/4 back in thinking the drill can still handle it, I was wrong.
After, another 49 size O's followed before the little guy gave up. I wanted to know exactly how much the PS130-2A had left so and proceeded to drill on with a size 22 on speed setting 2. Drilling went smoothly for the next 58 holes with very little to almost none notable loss in drilling speed until the little guy had enough and just stopped. Switching over to speed one (torque) gave the drill it's second breath and additional 47 holes followed until the battery had nothing less to offer.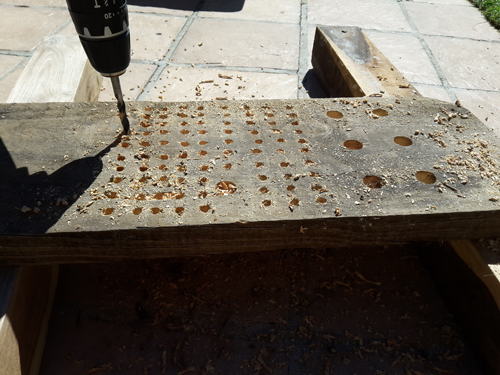 That's 190 holes with a total volume of 16 cubic inches of wood chewed away.
The charger?
The PS130-2A comes with the BC330 1 hour charger and although there have been mixed reviews I am of the opinion it does what it's meant to do. It has a charge indicator light to indicate while charging and when charging is complete. In addition, it also accepts all current Bosch 12V batteries.
At this point, I can imagine a few people asking, "why would Bosch discontinue a 30 min charger and replace it with a 1-hour charger?". Well ladies and gents, unfortunately, the 30 min charger did not comply with more recent energy laws.
How does it measure up?
Compared to its big brother the HDB180-02 it's an impressive performer. Delivering 26% less torque but weighing in at an impressive 75% less than the big guy.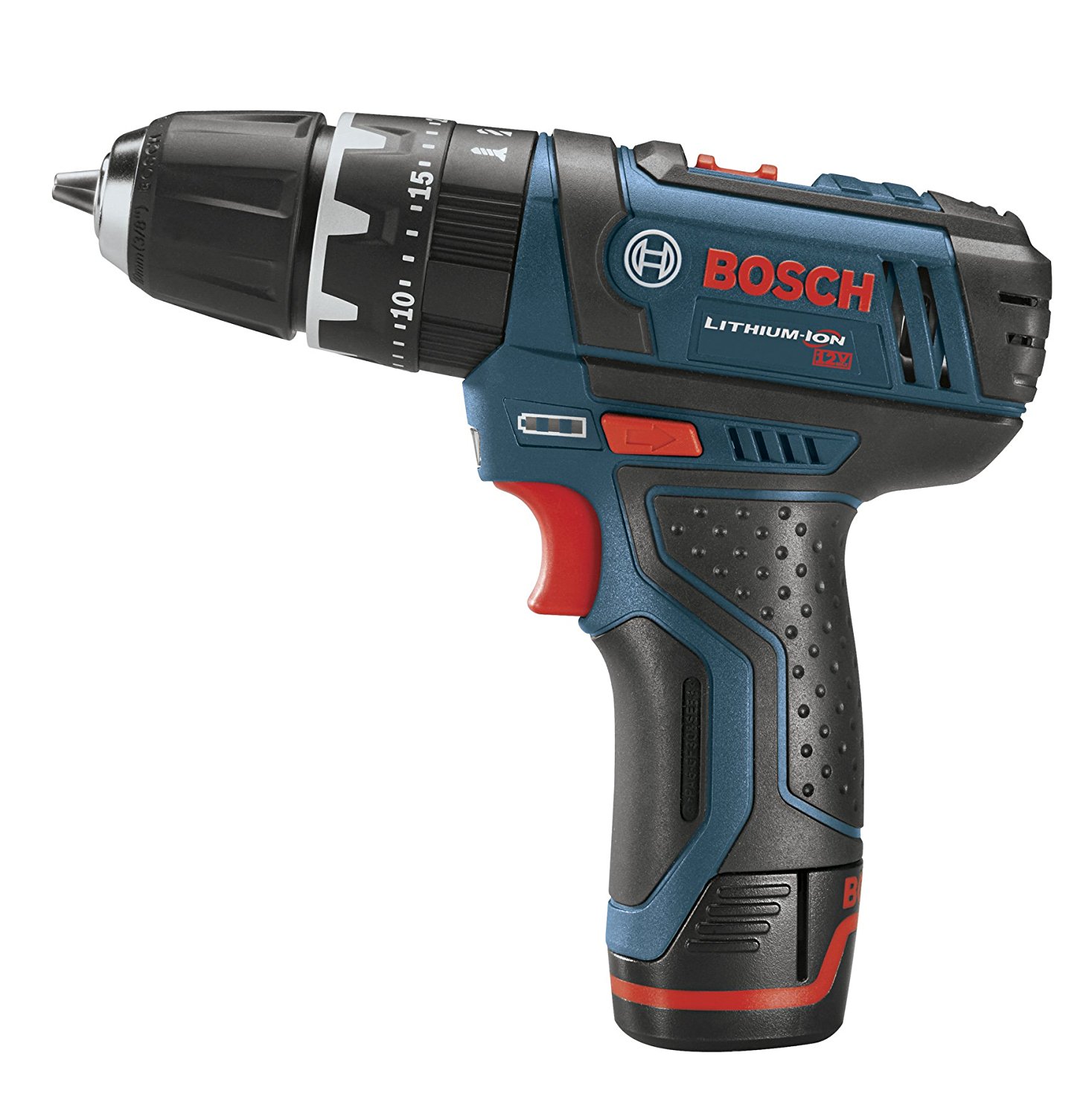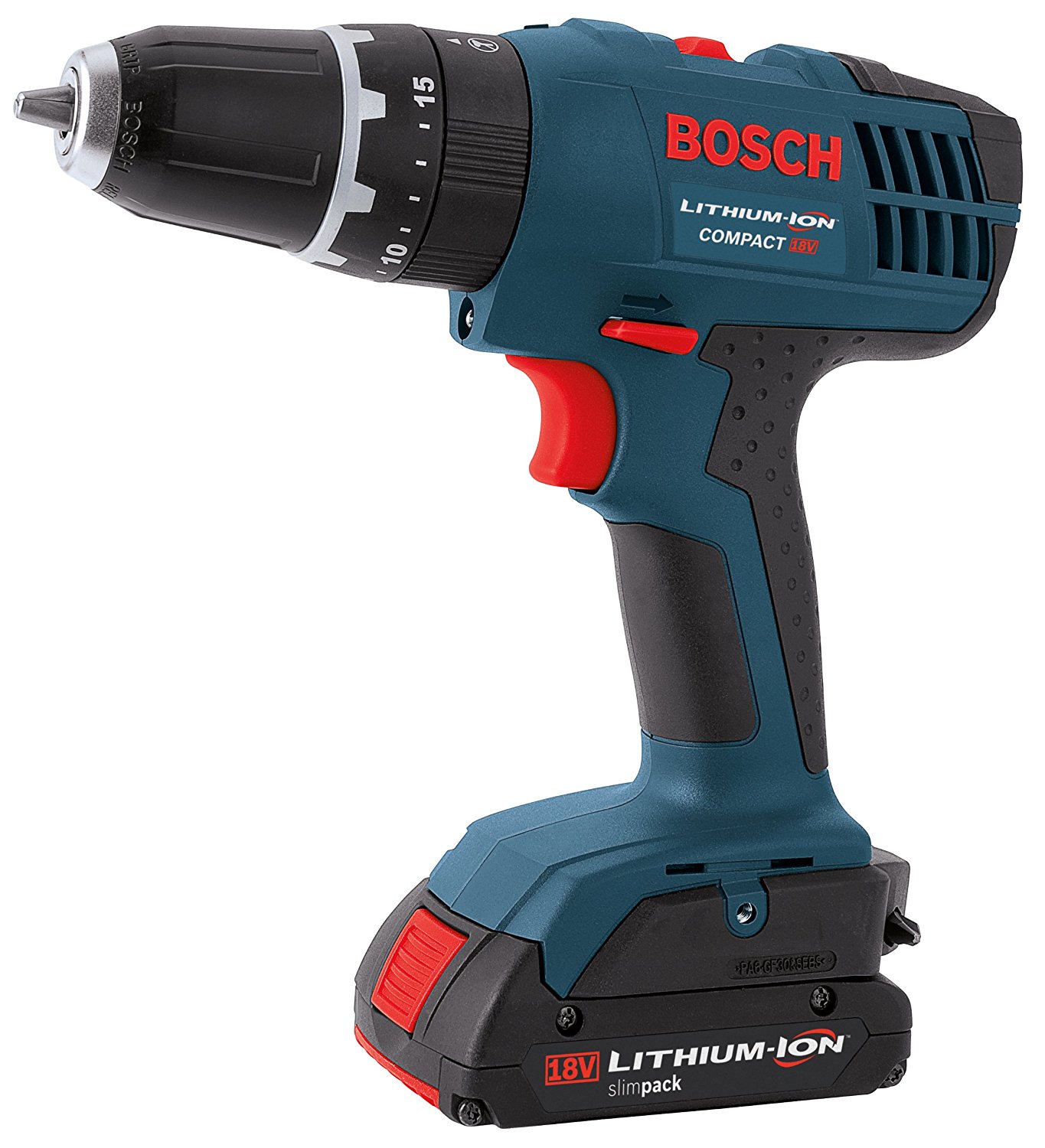 Who would buy this drill/driver?
I bought this drill/driver for my woodworking shop. It's small size caught my eye and these days it's one of my most used power tools. Its size makes it easier to get into tight corners when assembling cupboards while the lightweight spare me from operator fatigue when working in awkward positions like hanging light fixtures. On job sites, it fits snugly on my tool belt and the LED light sheds some light on the situation when I'm fixing hinges where light is limited. While the tool does come in a smaller version, the PS31-2A, that does not have a hammer action, I opted for the PS130 so I wouldn't have to change tools when hanging shelves and fixtures.
Con's
There is not much I don't like about this power tool. The 1.3 Ah's battery life is good enough for me but I think I will be adding a 2.5Ah battery to my tool arsenal soon. There is also a 4.0 Ah battery available but its bulky build takes away much from the accessibility of the tool.
The Bosch PS130-2A has a hammer function but is not an everyday impact drill. To hang a shelf or a mirror it will do the job just fine but don't expect it to be a concrete destroyer.
Conclusion
The baby Bosch does what it's meant to do and it does it well. It's sturdy, user-friendly and conveniently small so you can always have it at hand. It's a great cordless tool to add to your arsenal if you are a woodwork junkie.
As far as 12V cordless tools go the Bosch PS130-2A has you covered but if you're looking for a drill/driver that can chew nails it might not be for you.

Woodworkjunkie.com, DIY like a pro