Quick and easy beginners projects.
Wooden wall clock.
This DIY wooden wall clock tutorial is designed as a guideline for you to incorporate your own creative designs to create something functional and beautiful. For the tutorial, I decided to go with a rustic look with a modern edge while keeping the design simple.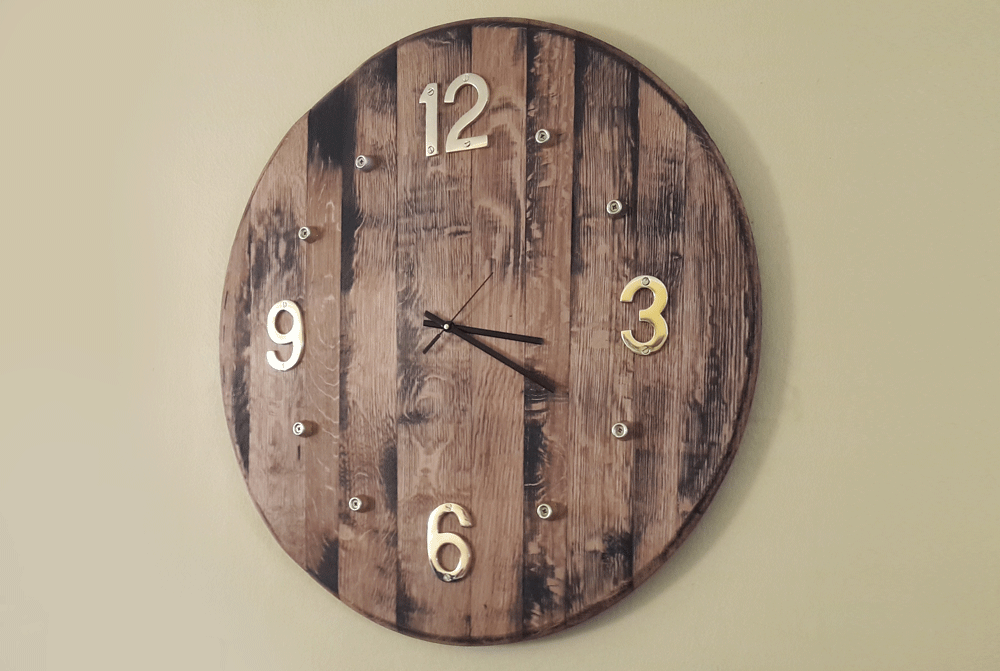 What you will need (Materials)
Your clock face

This will be the main structure of your clock and act as the base or foundation for the theme you decide to incorporate.

For the rustic component of my clock, I decided to use an aged and stained oak wine barrel top. Doing so meant I already had the shape and size of my clock covered and as a result would not require further sizing and shaping.

Don't feel limited to the conventional circular shape of a clock. Your clock can be any shape that would fit your design. Keeping in mind that sizing would require additional tools or power tools.

Clock mechanism

The brain of your clock will be the timing mechanism. This can be acquired by salvaging it from an old clock or like myself just a quick trip down to the local dollar store.

To save time I bought an inexpensive clock that owned the hour hand characteristics I felt would best suit my design and disassembled it.
The hour hands were easily removed by pulling them off by hand and the mechanism was removed by unscrewing the single screw holding the mechanism in place.

Indicators

Here you will be spoiled for choice as there are no limitations as to what you can use as indicators (Roman numerals, studs, stickers or numbers in any font or style) the possibilities are truly endless.

For the modern component of my clock, I used brass numbers I purchased from my local hardware store.

Keeping to my simple design, I only wanted numbers on a 3 hourly interval and would use simple plastic studs painted with metallic spray paint for the 5-minute interval indicators.
Tools you will need
The tools you will need is entirely dependent on your own design.
For the featured design I used:
Belt sander – To strip the most prominent discolouration and provide a leveler surface. (If you are using a piece of wood that is already level a belt sander will not be necessary though sanding for a smooth finish would be advised)
Router – To sink the clock mechanism into the workpiece. (If your workpiece is thin enough to allow the shaft of the clock mechanism to protrude trough the face of the clock you will not require a router)
Drill – To pilot the center hole for the clock mechanism. (The bit size will be determined by the mechanism shaft)
Glue gun – To fix clock mechanism to the workpiece. (Can be fixed with screws also)
If your design requires sizing or shaping of the clock face you will, in addition, need a jig saw.
Step 1 – Find your center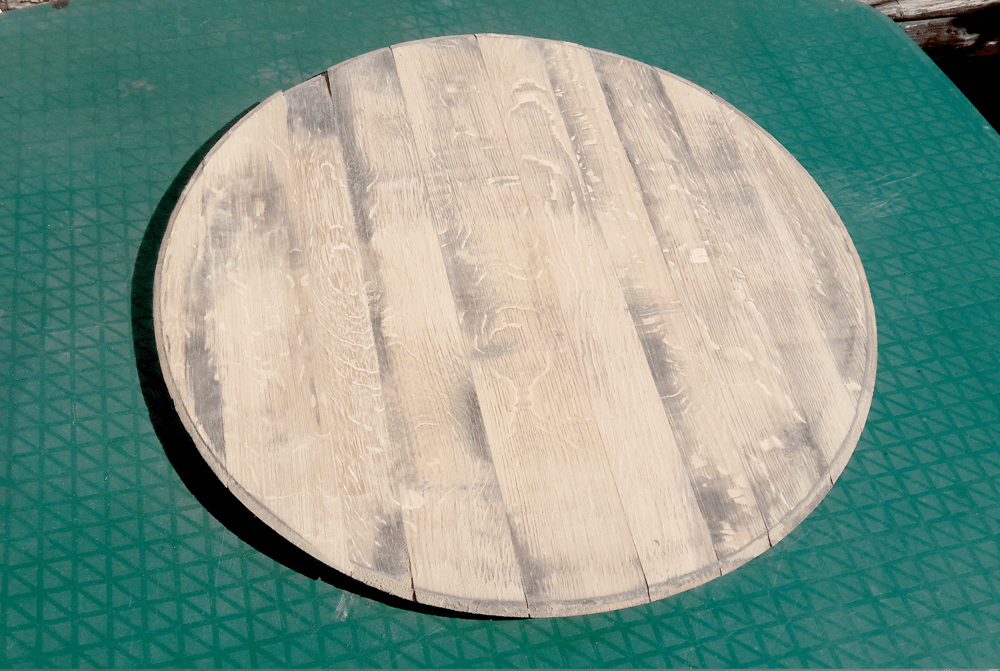 After a quick run with a belt sander, the face was ready to be marked.
Using some simple math, find the center of your workpiece and drill a hole that would accommodate the shaft of the clock mechanism. (This is important as the center will be your reference point from which you will plot the rest of your layout).
After marking the center, mark the X and Y axis on the clock face making sure of a perpendicular intersection at the center.
All the clocks I considered needed a 5/16″ (8mm) hole to allow the output shaft of the mechanism to protrude through the clock face.
Step 2 – Plot the layout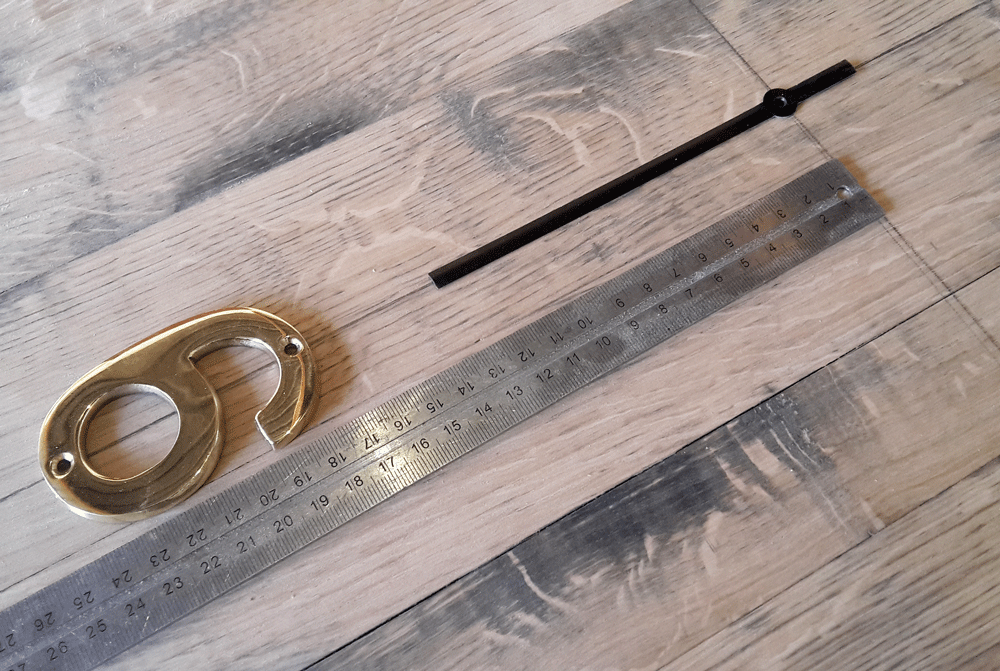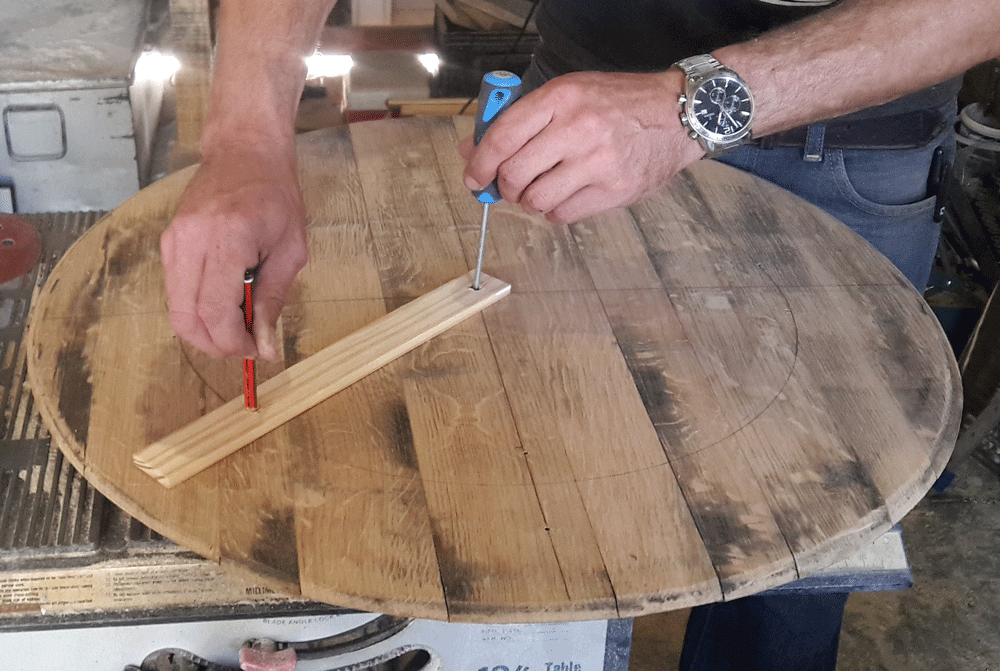 Laying out your indicators can be a great way to envision a spacing that would produce the desired result. After doing so, and deciding on a spacing, take stock of it with a ruler so it can be mimicked over the entire clock face.
I used a plank with two holes drilled to my desired spacing to draw a circle to act as a guideline when fixing my indicators.
Make sure to clearly mark where all the indicators will be fixed.
On a 360° scale, 5-minute intervals will be a 30°  spacing.
As all my indicators were being fixed with screws, I drilled small pilot holes where they would be placed. This allowed me to sand down the pencil marks without losing where my indicators would be fixed.
This step was followed by treating the wood with oil to accentuate its characteristics.
Step 3 – Assembly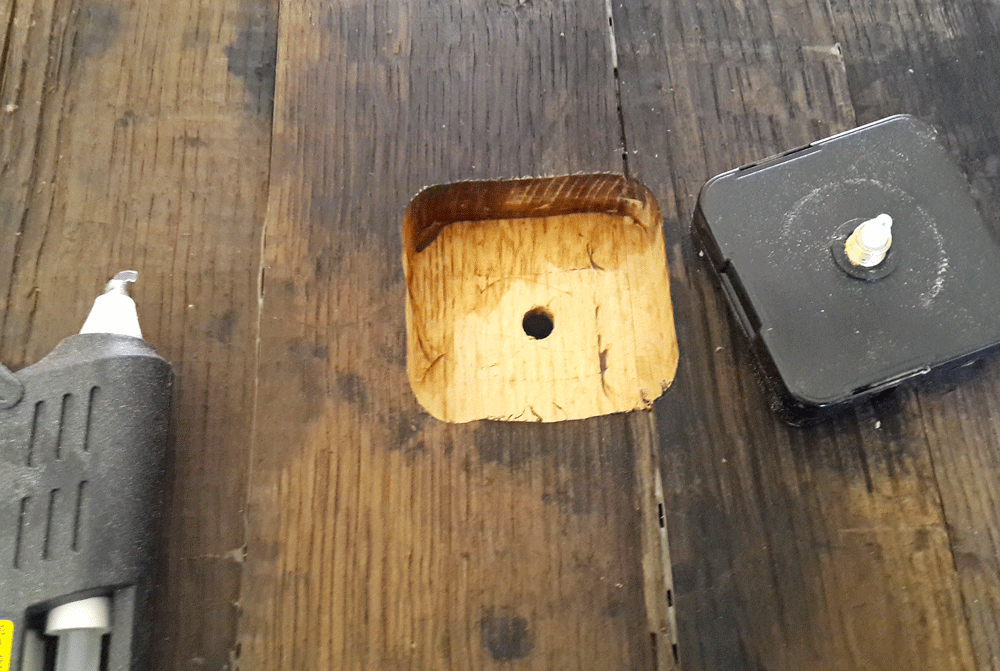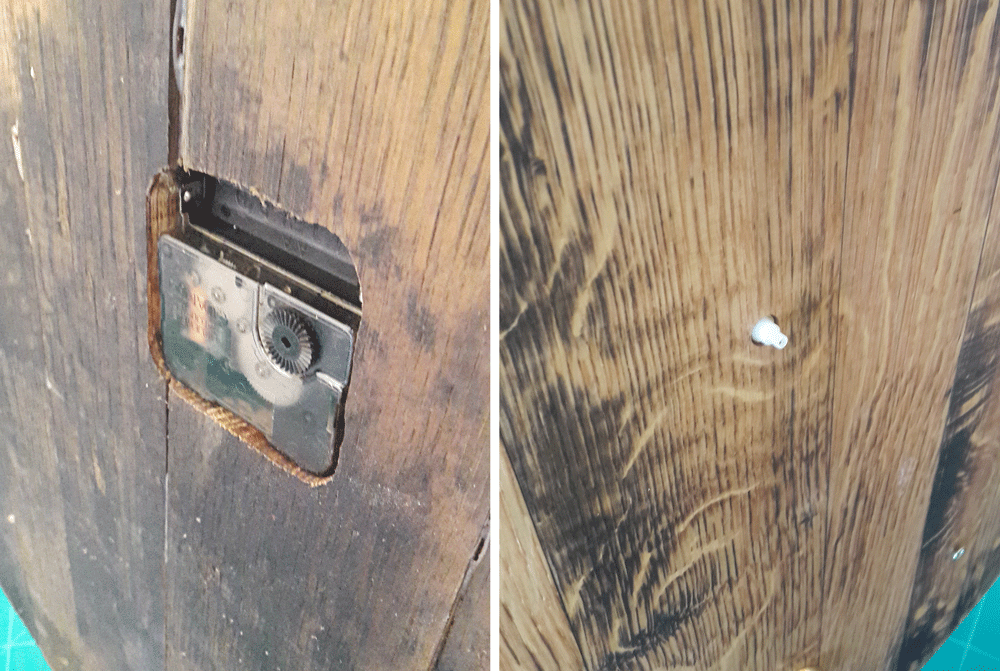 The wine barrel lid I was using was 3/8″ thick which meant my output shaft of my timing mechanism (which was only a 1/4″ long) would not protrude through the watch face without me sinking the mechanism into the wood.
To achieve the required depth I used a router to make a cutout that would accommodate the mechanism.
I fixed the mechanism using hot glue and a glue gun but screws or even double-sided tape would work just as well.
Now all that remained was fixing my hour hands, indicators and a bracket to hang the clock.
The hour hands pushed on as easily as they were removed, with a gentle nudge by hand.
Using the drilled pilot holes, I screwed the time indicators in place and with a dry cloth, polished up the brass numbers.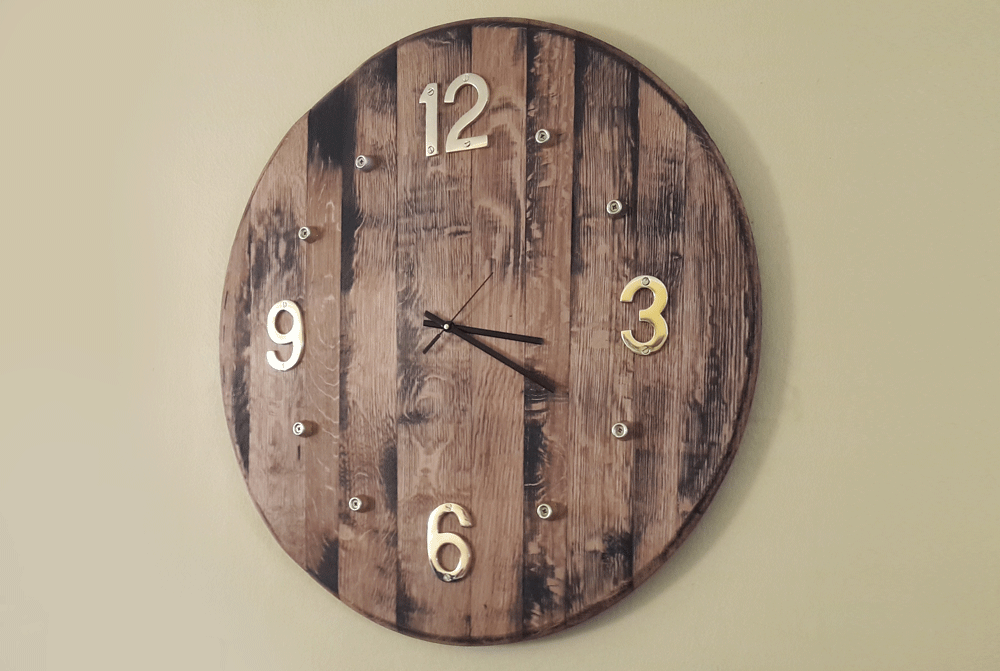 After fitting a simple "off the shelf" bracket to hang the clock it was ready to be displayed.
As mentioned before, this tutorial is intended as a guideline to motivate and accommodate your own creativity. 
Build your clock your way but most of all have fun doing so.

Woodworkjunkie.com, DIY like a pro.
If you found this tutorial helpful or you have any suggestions, please leave a comment below.
Alternatively, you can contact us at admin@woodworkjunkie.com.