Removing rust from your tools.
Most tools are made from steel, strong, durable and built to last. Unfortunately, steel has one major downfall. Like everything it decomposes and in the case of steel the decomposition occurs in the form of rust.
What is rust? Rust is formed when iron (Fe), which is present in most types of steel, reacts with oxygen in the presence of water or air. It occurs through a process called oxidation and science blah blah blah…
Regardless, we're not interested in what causes rust but rather how to get rid of it with an easy rust removal hack.
So without further ado, the easy rust removal hack is…vinegar.
Vinegar?
Yes, vinegar. Vinegar contains acetic acid which can kick rusts butt.
How does it work?
To demonstrate, I managed to get my hands on an old, some might say vintage, set of woodturning chisels.
If I was planning to use the chisels to incorporate into some sort of rustic display the rust could add some sort of country flair. But I'm not. I plan to use them for woodturning and I don't like using rusty tools.
So now I have the chisels and I thought to myself…I could go buy some expensive rust remover and in the process knock myself out with the fumes or I could try the vinegar hack. I chose to go with the vinegar, mostly because I already had vinegar and would have to drive to go buy rust remover.
Step 1 – Gear up
What you will need
Some white vinegar – Enough to fill a container to a point that will enable you to submerge the entire rusted area.
A container – Big enough to accommodate the tool you want to de-rust.
Some rags or an old cloth.
Salt – About two tablespoons.
A bucket with some tap water (assuming you don't live Sahara)
And an abrasive sponge or even steel wool.
Now that you're armed with all the tools of the easy DIY rust removing trade its time to get down and dirty.
Step 2 – Submerge
After a quick rinse with clean water and a wipe down to remove any loose particles on the surface of the tools they were ready to go into their vinegar bath.
Prepare the pool by pouring enough vinegar into the container to submerge the items and add two tablespoons of salt.

Some more science: The acetic acid in the vinegar and the salt react to form sodium acetate which is the much weaker little brother of hydrochloric acid.
Place the objects inside the pool and go on with your life for the next 24 hours. Give the vinegar time to do its job. The longer you leave it in, the better.
Step 3 – Scrub it up
So its been 24 hours and you're dying to see if vinegar can remove rust from steel.
Removing the tools you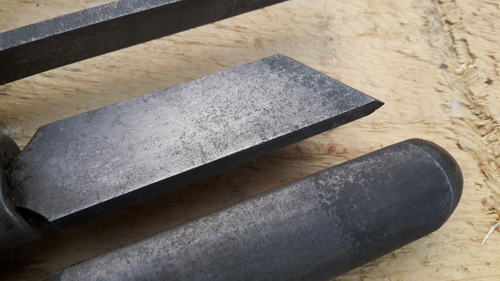 should notice the rust lifting from the steel and with a light scrub with the steel wool it should come right off.
Make sure you get all of it and follow the process with a good rinse to wash off the vinegar left on the tool and using a rag dry it off.
Viola, you de-rusted an old tool. Simple as that.
At this stage, it might be a good idea to give te tool a good oiling as to prevent the return of the rust monster. Using a rag rub some oil on all the steel areas of the tool. Even WD-40 should do the trick. Oiling the tool prevents water (the rust catalyst) from making contact with the steel. No water means no rust.

Woodworkjunkie.com, DIY like a pro.
If this article was helpful or you have any suggestion or questions please leave a comment below.