Getting going with your own woodworking shop.
You've decided to take up woodworking and now you want to get rolling. First, you'll need a place to hone your craft. A shop, or more specifically a home woodworking workshop. Your shop, to be the origin of your brand and the birthplace of all your future masterpieces.
Plan your workshop. Have a vision and sketch it out. You need to know what you're working towards.
This article will take a look at some considerations when planning and setup up of your home workshop.
Focus of workshop
Machinery
Power supply
Efficient lighting
Workbench
Ventilation
Housekeeping
Info board
Focus of workshop
What are you planning on making? Some projects require a fair amount more space than others. Will you have that space or are you planning on falling over your projects trying to navigate your workshop?.
Machinery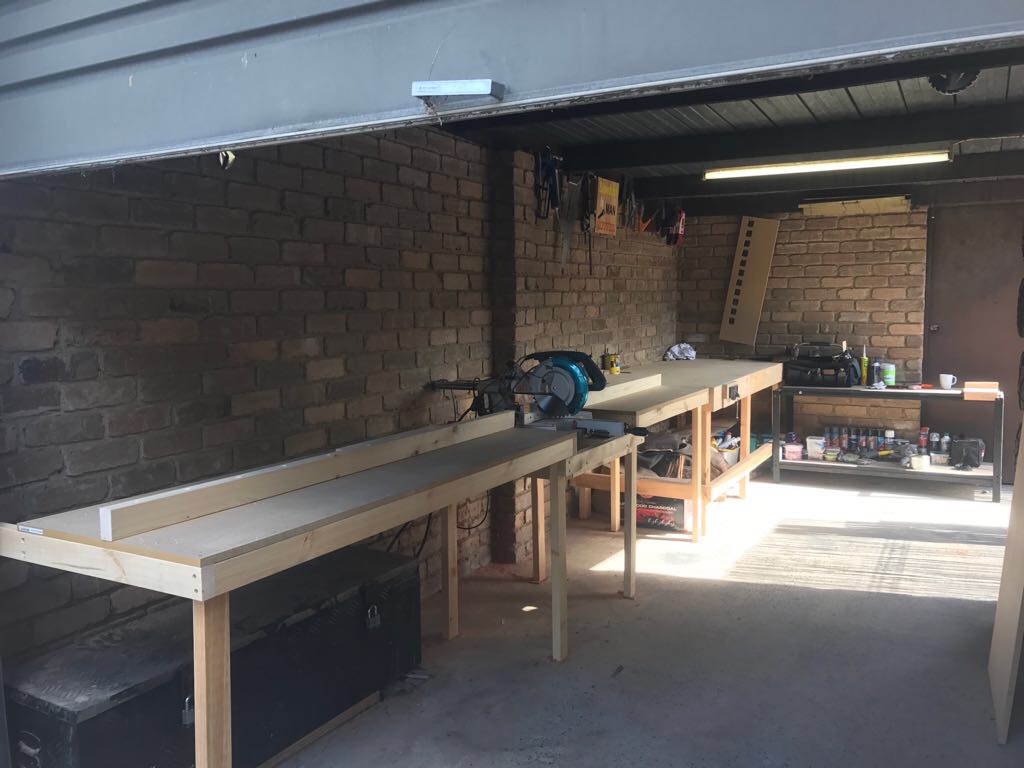 There are many stationary woodworking power tools from table saws to thickness planers, which do you intend housing in your workshop? These tools require feeding a workpiece through the machine. This means you need the entire length of the workpiece in space before and after these types of power tools.
Equipment like Miter saws again requires their space to their sides (Or at least to one of its sides). Enough to accommodate the workpiece on which you will be performing the crosscut.
This is an important factor to take into account when planning your woodworking shop.
Make sure you have that space available and plan your layout accordingly for the equipment you intend on using.
Power supply
The beauty of woodworking in the modern age is all the great application specific power tools available. We have power drills, sanders, saws, joiners, and cutters. You will likely be using a combination of them on every project and unfortunately, all these great tools need electricity. Will you have enough power points? Or are you planning on running a collection of power cords and adapters to power your arsenal of tools? Bad idea, the last thing you want is a bunch of cords all over your workshop floor. This creates a major tripping hazard and the opportunity to cause yourself serious injury.
Plan a power layout. Zone your workshop to identify areas where the most activity will be taking place and ensure adequate power is available.
Having an overhead power point to allow suspending your power tools cord when using it is also a good idea if possible.
Efficient lighting
The last thing you want is to mess up a project just because you couldn't see your guideline. Cutting or sawing off the mark happens often and are one of the reasons why your projects don't turn out the way you want them to. Ensure to have enough light so you can always see what you are doing.
Workbench
Ah yes, the workbench, the cornerstone of your workshop, the base of operations. No workshop will ever be complete without the bosses desk. Although not always possible, ideally you would want to setup your bench as an island. This allows 360° access and will only streamline your production process. In addition, you might want to consider placing your workbench centrally. As this will be where you will be spending most of your "building" time you don't want to have too much space between you and the tool you need to grab. (Take a look at our simple beginner workbench plans here)
Ventilation
We don't want your hay fever acting up so it might be a good idea to make sure you have enough airflow to accommodate all the chemicals from the finishers, thinners and paint stripper you may be using. Also, woodworking generates a good amount of sawdust and unless you are planning on implementing some kind of dust extraction system, this can also aggravate your respiratory system. Remember, you need to breathe to stay alive so let's try and keep the air clean.
Housekeeping
Cleanliness is next to godlessness, or so they say. But besides impressing your visitors with your immaculate workshop, good housekeeping has a more important function.
a place for everything and everything in it's place
A clean and organized workshop will streamline your production process and reduce the chance of injury trough accidents. Many woodworking accidents start with a trip or a tumble and good housekeeping will close to eliminate this possibility.
In addition, you will want to make sure you have enough storage capacity. Think about all the wood you will be using and the off cuts your projects will be generating, these need to be stored. Tools storage is also important like a rack for your clamps or drawers to your power tools. When investing in a hobby like woodworking you will also want to think about organized storage for your consumables like glue, the range of screws and nails you will be using and even sandpaper and drill bits. Keeping all of these organized will add to the functionality and productivity of your workshop.
Info board
Last but not least, your info board. Having a space to visualize your objective or jot down your random info or idea while you're working can be a huge asset. It helps you remember the glimpse of genius that struck you while you were working or a point to reference your measurements while you are building your masterpiece.
A final note.
There is no need to accommodate all these considerations all at once. Your workshop will be your space and has to work for you. Plan your workshop and work towards it. As a beginner, focus on the most important aspects that would pertain to you and add on as you go along. Many of these can be projects in themselves, a workbench or shelving for your workshop are great excuses to practice your craft. Remember, woodworking is a skill and practice makes perfects.

woodworkjunkie.com, DIY like a pro.
If this article was helpful or you have any suggestions please feel free to let us know in the comment section or email us at admin@woodworkjunkie.com.