Building  a simple woodworking bench –
For beginners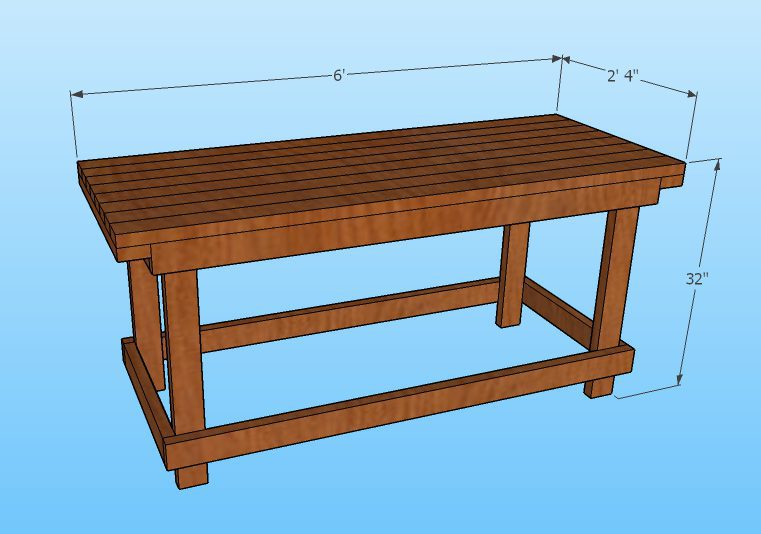 As discussed in a previous post, a workbench is not only a great project for a beginner at woodworking but also an integral part of a home workshop.
Your bench will be the cornerstone of your shop that provides you with a flat surface at a comfortable height to add to the quality and accuracy of the masterpieces you create on top of it.
DIY woodworking bench plans: The bench I will be walking you through today is simple in design, only requires basic hand tools with the exception of a drill and is constructed using 2×4 (1-1/2 in x 3-1/2 in) lumber only.
Note: These dimensions are not set in stone. And can be altered to suit the craftsman.
Remember, woodwork is about being creative.
Tools you will need:
hand saw (or circular saw if available)
Power drill
Pencil
Measuring tape
Square
Materials:
2×4's
#8 x 2-1/2″ screws (60)
1/4 x 3-1/2″ Carriage bolts with nuts and large washers (16)
Step 1 – Cutting planks to required length's
Cutting list:
4 x 5′ 5″
5 x 2′ 1″
8 x 6′
4 x 2′ 8″
2 x 2′ 4″
Step 2 – Assembly of the bench top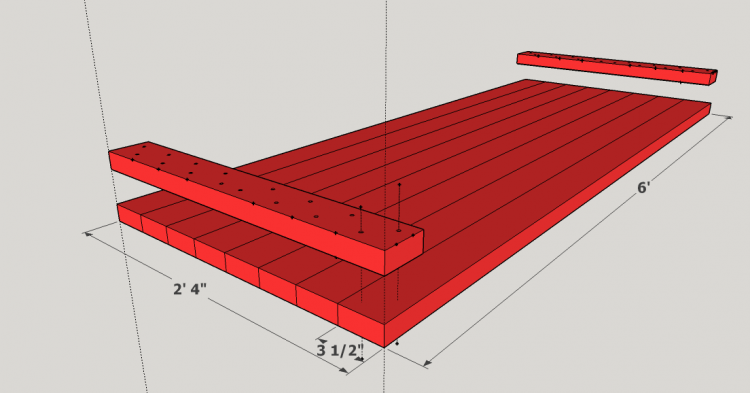 Your Benchtop will be made up out of 2 x 2'4″ planks and 8 x 6′ planks.
Start by laying your 6 ft planks next to each other on a flat surface (If you have clamps, clamping them together would make assembly a bit easier). At each end, you will fix one the 2'4″ planks using two screws per 6′ plank as indicated by the above diagram.
Step 3 – Assembly of the top frame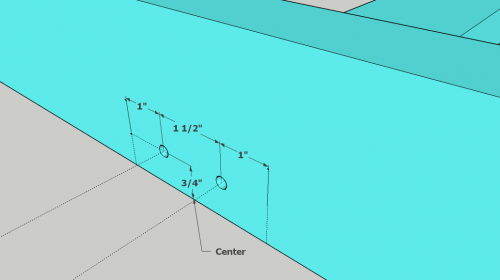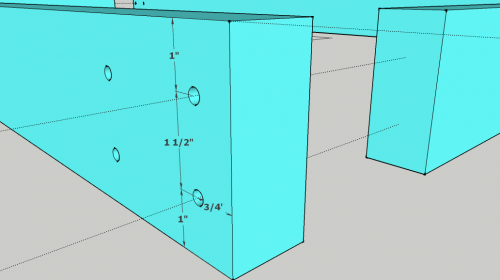 Assembling the top frame will require 2 x 5'5″ as well as 3 x 2'1″ planks. Prepare the planks for assembly by drilling the holes (Hole sized to fit screw) Fixed together using screws as indicated by the diagram. (Don't worry too much about the other holes on the diagram, we will be getting to them in just a moment)
Step 4 – Assembly of base frame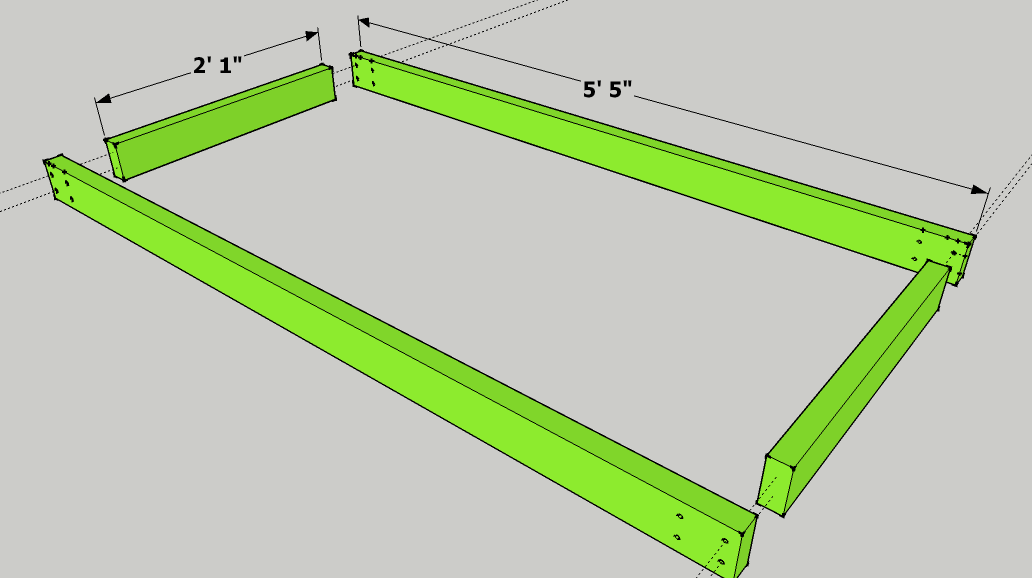 Like the top frame this frame is assembled using 2 x 5'5″ but in this case, only 2 x 2'4″ planks. Assembling the corners in the same manner as the top frame.
Step 3 – Fixing the top frame to the bench top
Now that you have your major components of your table assembled you can start turning it into a workbench.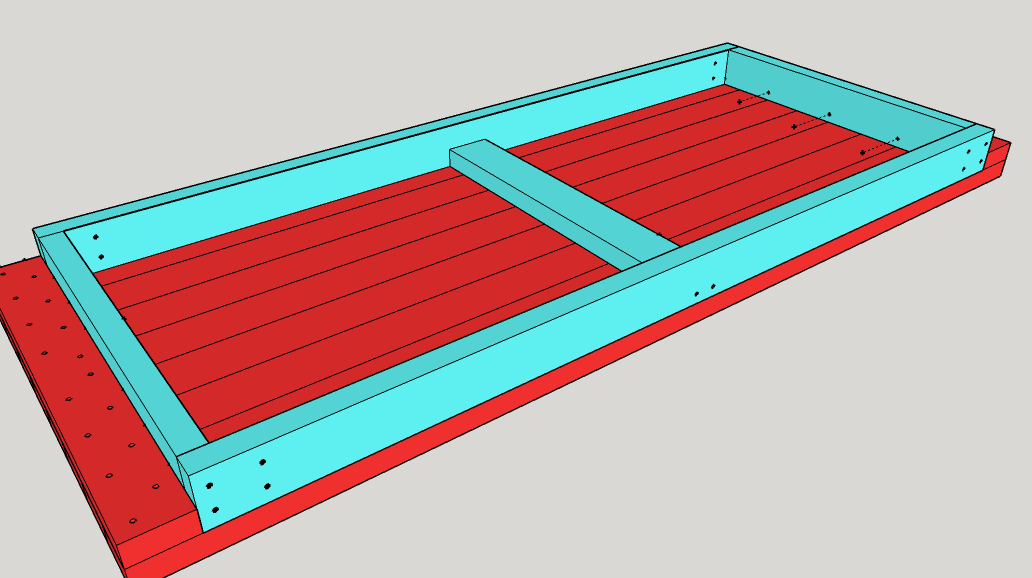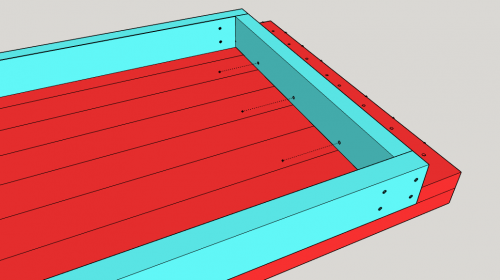 Fix the top frame to the bench top using screws as indicated by the diagram. The screw spacing can be placed at your discretion as the screws are not load bearing but rather just to keep the top from shifting.
 Final Step – Fit legs
To complete the workbench you will use the 4 x 2'8″ planks which will become your workbench's legs. Prepare the legs by drilling holes for the carriage bolts as indicated on the diagram. Each leg using 4 bolts to fix. (Hole should be sized to accommodate carriage bolts)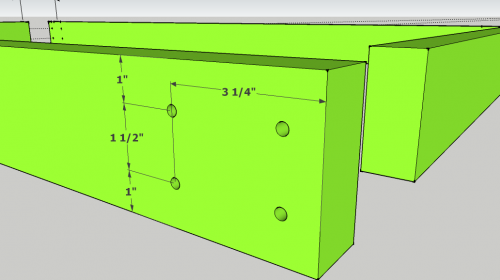 Also, drill holes in the top and base frames to which the legs will be fixed. (The hole being the same size as the ones on the legs). Once this is done the legs can be fitted using the carriage bolts with large washers. I would advise sanding the top of the bench once the bench is assembled.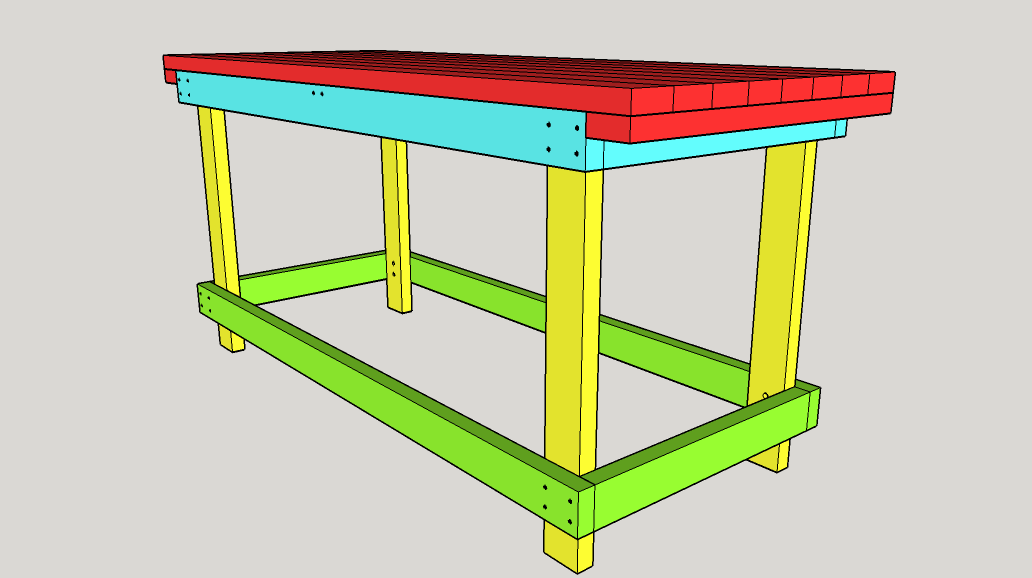 Once assembled the bench will be ready to undertake your first project so get out there and build something.


woodworkjunkie.com, DIY like a pro
If these plans were helpful or you have any suggestions please let us know in the comment section below.