Cutting the cord on power tools
There is no doubt that cordless is convenient. In the case of cordless power tools like drills and drivers, sacrificing a bit of power output will result in a tool that is lighter, smaller and can be used on the go. With less operator fatigue when working in those awkward positions like hanging light fixtures or working in cramped spaces. Tripping over or getting tangled up in power cords or running around looking for a wall socket to drill a quick hole or drive a few screws will be a thing of the past. And if you don't want to cut the kick, there are cordless drills that can pack a punch but are not as light or small. One such example is the Bosch HDH 181X-01L 18V. Weighing in at 15.2 lbs and with a 4.0Ah battery, it's a force that can hold its own and will put a few corded drills to shame. But professional grade tools cost professional grade prices and if you don't want to fork out a fortune, there are many quality, "home grade" tools available for the avid DIY junkie. For the average handyman or weekend warrior, a normal 18V power tool will get the job done at a cost to suit their pocket.
But how to differentiate between all the 18V tools available? Let's take a look at all the aspects to consider when choosing the right cordless drill for the job.
Breaking down the 18V battery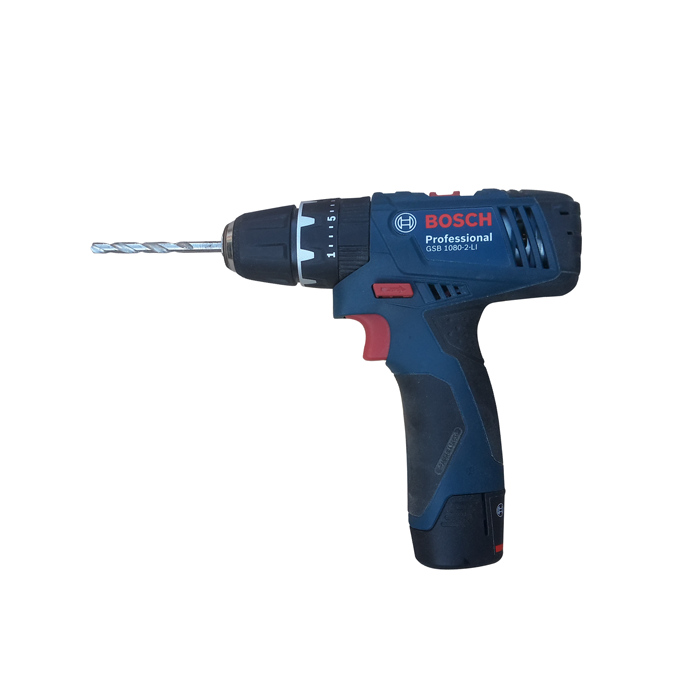 Giant strides have been made in recent years in the field of cordless power tools with more advanced battery technologies allowing for the cordless power tool community to branch out to include higher power consuming power tools like circulars saws and even stronger drills. With batteries being able to store and supply more charge making it possible to drive more powerful electric motors. And in the case of the lighter and smaller Li-ion batteries, allowing for smaller drills and drivers like the 12V's to become much more valuable tools when working in your home workshop.
A cordless tool is only as good as it's battery allows it to be and is for that reason that when looking to grow your tool arsenal by adding a cordless power tool to it your main focus should be the battery it operates best with.
The Power bank
A cordless tool can't be cordless without a battery and when shopping for cordless tools I have noticed people getting too fixed on the voltage alone. The voltage of your cordless tool is the voltage needed from its battery that would deliver the best results. But that does not mean all tools of the same voltage would perform the same. Larger drills of the same voltage would need more current but in exchange will dish out more torque.
This is where we start looking at Ah (amp hour) rating of the battery:   (1.5Ah, 4.0Ah etc.)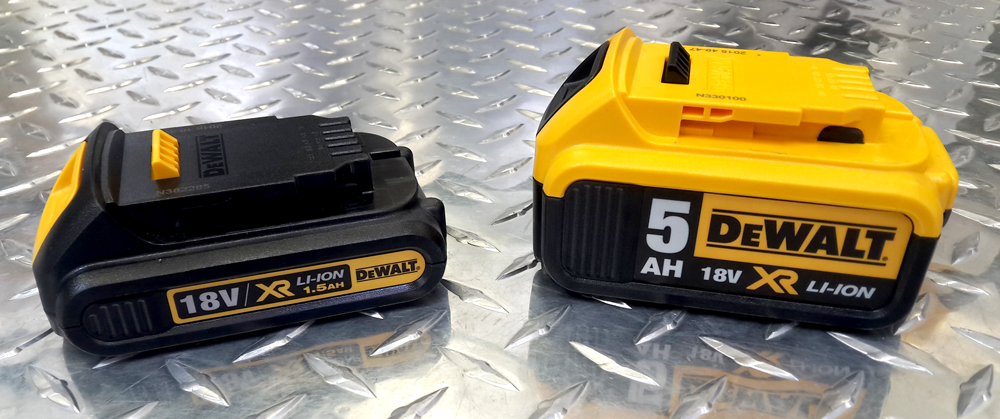 The power of your tool is dependent on the relationship between the voltage and current requirements of your tool and the batteries ability to supply it.
Ah rating of cordless power tool batteries
Technically your amp hour rating can be viewed simply as the amount of current the battery will be able to supply over a specific time. So a 1.5 Ah battery can supply 1.5A for 1 hour or 3A for 30 minutes etc. That would mean that on the same drill a 3Ah would last twice as long as a 1.5Ah battery.
Taking this into consideration there is one more factor to consider which is the drill motor itself.
Bigger drills (of the same voltage) have bigger motors and so require a larger supply of amperage.
For example, I have two 18V drills, of the same manufacturer, but the one has a bigger motor and having a bigger motor the tool itself is much heavier. It delivers more torque but has a higher power consumption. Therefore it uses a 5.0Ah battery. My smaller drill uses a 1.5Ah battery and produces less torque. Both drills can operate for the same time before the battery needs to be charged. If I swap the batteries around, my machines will still work but the smaller drill (now running with the 5.0Ah) will run longer than with its own battery and the bigger machine much shorter (Also running with a torque loss).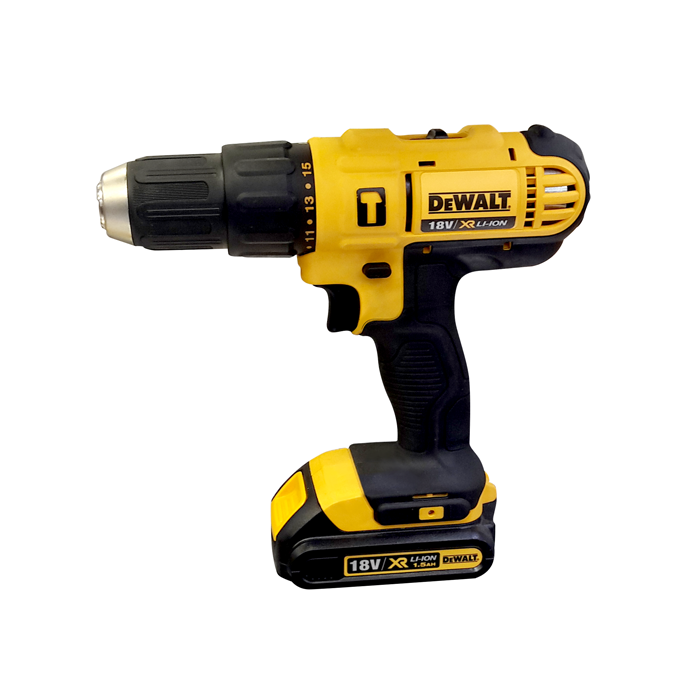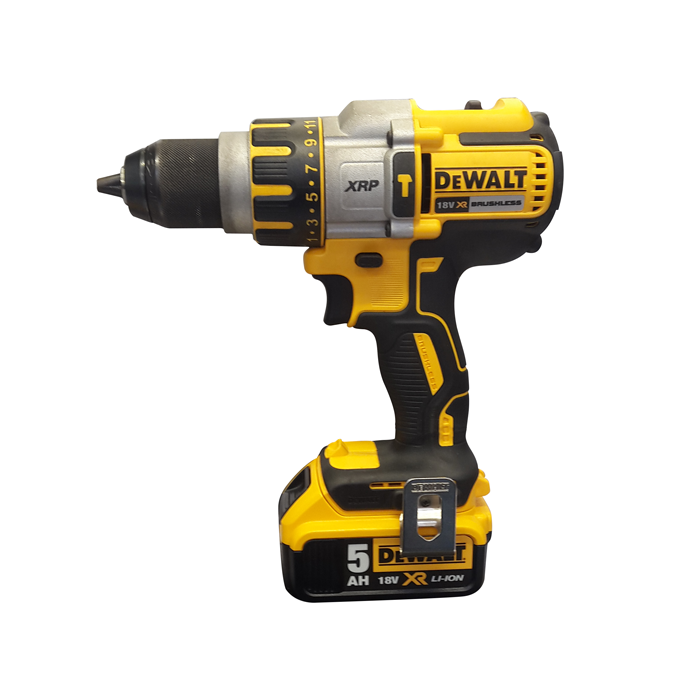 Battery type (NiCad, NiMH, and Li-ion)
When discussing batteries it is important to note that when using an e.g. a 18V 1.5Ah battery on your tool, irrespective of whether it is NiCad (Nickel Cadmium), Li-ion (Lithium-ion) or NiMH (Nickel-Metal Hydride), it will deliver the same result with regard to performance.
However, where Li-ion is low maintenance the NiCad and NiMH suffer from the "memory effect" where if the battery is not completely discharging before recharging the batteries ability to store a charge deteriorates over time.
Li-ion batteries, being the latest technology in cordless tool batteries are also smaller and lighter than their NiCad and NiMH counterpart.
Another definite plus for Li-ion batteries is that they have very little, (almost none), self-discharge. Meaning if your battery has a charge it will retain it's charge while not in use. The same can unfortunately not be said for NiCad and NiMH batteries. Li-ion batteries do however come at a price that will take a 40% bigger bite out of your pocket.
If the tool is intended for light-duty or to be used around the house, maybe consider NiCad or NiMH batteries keeping in mind that prolonged storage without use can shorten these batteries life due to crystals forming inside the cells of the battery.
20V MAX vs 18V
The difference? Well besides the sticker, nothing. A 18V battery fully charged can peak at 20V. This means that a 20V MAX tool is a 18V tool is the same thing.  Some manufacturers chose to market their tools at the peak voltage and other just stick to the operating voltage of the motor. In the same manner, a 12V MAX tool has an operating voltage of 10.8V.

Woodworkjunkie.com, DIY like a pro.
Please leave a comment if the article was useful or you have any suggestions.