Cordless is convenient
Sacrificing a little torque allows us to cut the cord and end up with an on-the-go portable power tool. Yes, cordless is convenient but the convenience does, unfortunately, come with a drawback.
Batteries
Cordless power tools operate with DC voltage supplied from a battery and unfortunately, the brains of the world are yet to develop a battery that can last forever.
Though battery technology has experienced some major advances in recent years they can still only survive a certain amount of charges and discharges.
This means that sooner or later the batteries will fail and when they do your favorite little cordless drill becomes a novelty item.
The scene of a lonely cordless drill on a shelf covered in dust, untouched for months because the batteries have quit while the drill still had a lot to give, is one I've witnessed one too many times.
To avoid this scenario many find themselves considering whether to replace or repair the faulty cordless drill battery.
Consider the deal below
The Makita XPH102 18V LXT along with a 3Ah battery, charger and carry case.
Good deal right? Yeah, that's an awesome deal but what if, for whatever reason, the battery had to quit? You will be forking out about $65-$70 for a replacement because it's a 3Ah while the pricing on the charger is not that impressive either.
That's only 40% less than original retail price just for the battery.
The same can be said for all the major brands. Dewalt, Bosch, Milwaukee, or even Ryobi.
Replacement batteries, Li-ion or Nicad, are going to cost you.
What are your options?
Buy new batteries
Re-pack the batteries
Convert the tool to a coded version
Or buy a complete new cordless drill kit
Buying replacement batteries
While this is the obvious and easiest solution for many, it is definitely not the cheapest. For a 18V 2Ah battery, you can expect to pay +/-$50.00 for a lithium 2 pack and +/-$35.00 for a Nicad 2 pack on the lower end of the spectrum. Considering the example above, you are better off just buying a whole new cordless drill kit.
Alternatively, you can buy a drill set of the same make and model that includes two or three batteries and use one of the extra batteries to power the old cordless drill. That is if the model you own is still available for purchase and has not been discontinued.
Re-packing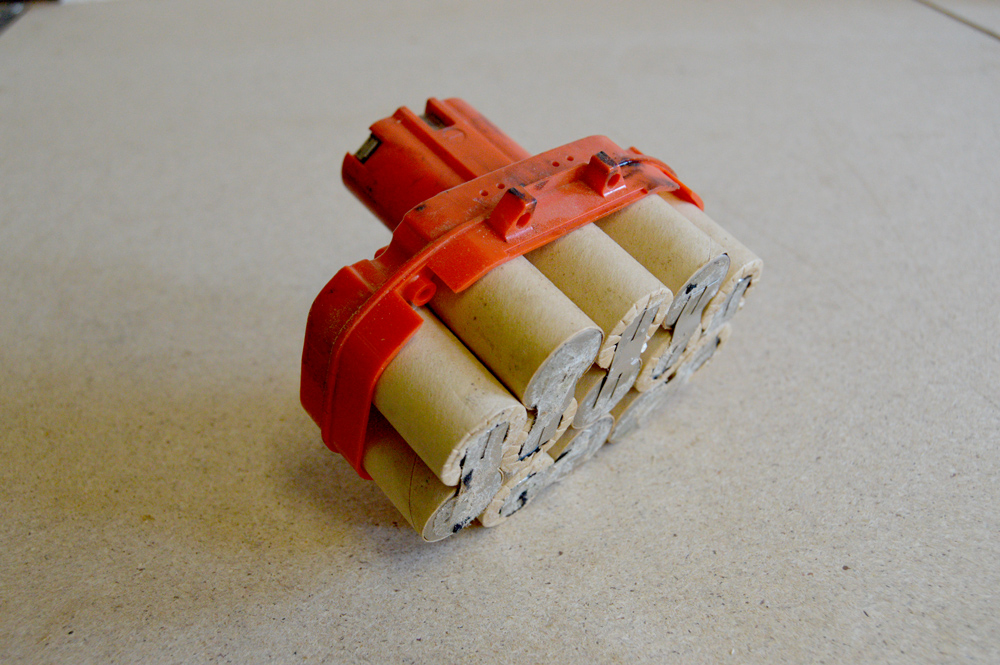 This is, unfortunately, only an option in the case of Ni-cad batteries.
It involves stripping open the old battery, removing the damaged cell, and installing new ones.
Ni-cad cells are 1.2V which means to repair a single 18V battery would require 15 cells. They are then connected in series with bridge plates to make up a single 18V battery.
The downside?
It requires a bit of know-how and the effort is not justified by the minor saving as the cells alone are not much cheaper than buying a complete battery.
15 Nicad cell generally retails in the $30.00 region and up.
Convert to corded and power from a wall socket outlet
If you are brave enough and have the electrical know-how you can consider converting the drill to a corded version of itself. This would allow you to still be able to use the drill while sacrificing the convenience of it being cordless.
As was mentioned earlier in the post, a cordless power tool is supplied with DC power from a battery while the electricity coming from your wall socket is AC.
To run a cordless tool from the electricity supplied by a conventional wall socket the AC needs to be rectified to DC (rectifier needed) and the voltage stepped down to a voltage in the region of the operating voltage of the cordless tool (Transformer needed).
More importantly, you will need to supply the tool with enough current for it to operate at its full capacity which, depending on the drill, can be as much as 7A or even more.

Using a standard off the shelf AC/DC power supply will almost certainly not be able to deliver enough current to run the drill.
Is building a power supply to run the drill worth the effort? The short answer is no! It most definitely is not. The transformer needed to step down the voltage while supplying enough current to run the drill under load will cost more than a drill battery. More importantly, however, if you are willing to sacrifice the mobility of having a cordless tool, you can purchase a corded drill for less than you would pay for a transformer.
Conclusion
If the batteries of your cordless drill give up on you, you are almost certainly better off just buying a new kit. Spending the few extra bucks will not only give you brand new batteries but also a shiny new drill and charger that goes along with it.