Your shop, your music…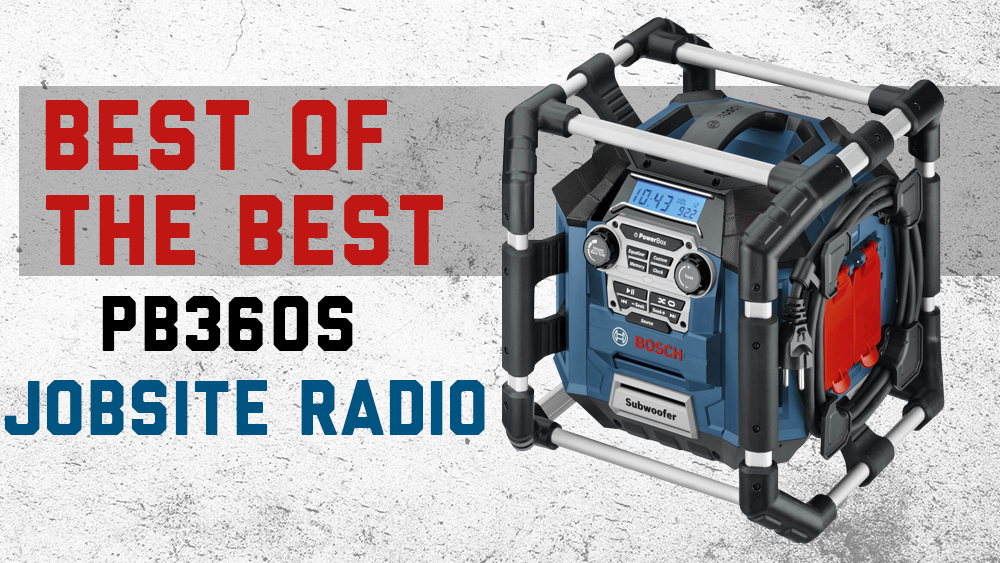 There is nothing like the right track to add ambiance to any experience. Working in your workshop, or on a jobsite, is no exception to that rule.
When you feel your muscle's start to weaken from fatigue "eye of the tiger" arrives in stereo to give you that much-needed boost or maybe you're the "dance around your workshop on a Friday night while putting the final touches on your latest project" type. Nothing wrong with that. Besides, no ones watching.
For these and many other scenarios most of us have our little, or not so little, ghetto blasters and boomboxes on display in our shops, angled just right as to hit that acoustic sweet spot. The subtle hissing doesn't bother us, we've gotten used to it years ago. But when old faithful just won't cut it anymore, maybe from one of the 3 times it was dropped, that time your hammer landed on it or all the dust and gunk build up, it's time for an upgrade.
Best Bosch Jobsite radio PB360S
Model: PB360S
Powered: AC wall socket or DC Bosch cordless tool battery
Voltage: 14.4V to 18V
Battery type: Lithium-ion
Battery: NOT included
Speakers: 4 + Subwoofer
USB/SD playback: MP3, WMA compatible
Audio in: 2x Aux
Warranty: 1 year
We give it: 4.5/5
Expect to pay: $198.00
Best place to buy: Amazon
Jobsite Radios
As far as the ongoing debate with regards to the best jobsite radio goes, the Bosch PB360S has our vote.
The PB360S is a robust, rugged, true grit Jobsite radio, that is designed specifically for areas where it might meet up with a hammer. That's right, we're talking about the "tough guy" of the radio world and as long as tough is tough, you'll have a hard time beating the Bosch PB360S.
Weighing in at 25.5lbs is the 16x16x16″ cube. The core is encased in a weather resistant shell sporting Bosch's signature blue and surrounded by a futuristic exoskeleton roll cage. Looking at its rugged design of durable plastic, aluminum, and rubber, it's not hard to envision how this worksite radio can take such a beating.
PB360S goes one-on-one with a baseball bat
The music
The PB360S is first and foremost a radio and in that aspect it absolutely delivers.
Within the weather-resistant shell is 4 speakers and a subwoofer spaced in such a way as to deliver 360° enriched stereo sound and while it's 26-watt output won't be enough to impress a teenager, it is good enough to deliver high-quality sound.
When you have exhausted your options scanning through the 20 FM and 10 AM presets, you can use the SD/MMC card reader slot, USB or one of the 2 aux inputs to play your music from devices like memory sticks, mp3 players, smartphones, CD players etc.
The powered USB port can also be used to charge/power USB-enabled devices like cell phones when it is not being used to read a memory device.
All of these ports along with a 12V 1Amp fused power outlet and a holster to secure your media device is found in the digital media bay that gets protected from dust and splashes when the cover is latched closed.
Sadly, the 12V supply point is only functional when the power box is plugged into an AC supply.
Powerbox and battery charger
The PB360S has a battery bay/battery charger (also with latching door) that can charge the Bosch 14.4 and 18V lithium-ion batteries when the unit is powered from a wall socket outlet (AC).
When the AC is plugged in, the Powerbox can also function as a multiplug as it offers 4 additional AC power out points that can be used to plug in small appliances or power tools.
Batteries that can be charged using the PB360S:     BAT607, BAT614, BAT609, and BAT618
When there's no AC powerpoint available the battery bay becomes a DC power input point and the unit can then, in turn, be powered using the same Bosch cordless power tool batteries.
Usage time from a single battery is dependent on battery size and how loud you blast your tracks. At it's best it gave us more than 7 hours of audio playback while at its worst, barely more than 2. This wasn't a problem. Owning a number of Bosch cordless power tools, I had a spare charged battery.
Other specifications:
| | |
| --- | --- |
| 12V outlet | 1 Amp Fused |
| 4-way AC outlet | 10 Amp MAX |
| Charges | 14.4V and 18V Li-ion |
| Operates | 14.4V, 18V, and 120AC |
| FM presets | 20 |
| AM presents | 10 |
| Aux | 2 |
| Digital media input | USB, SD card |
| Equilizer | Custom |
Conclusion
All in all, minus the few (and there are few) irritations, I love this little music box.
In the shop, it's plugged in and charging batteries while adding awesome melodies from your private playlists on your mobile phone to the atmosphere.
On the go, you can always have your tunes jamming in the background and knowing the bloke can take a hit will give you the peace of mind to carry on working when conditions aren't great.
Besides at the worksite, the Bosch PB360S will also be a valued addition to your kit when going camping and fishing.